Tungsten hexacarbonyl 
Synonym: Tungsten carbonyl, Hexacarbonyl wolfram, W(CO)6
CAS Number 14040-11-0 | MDL Number MFCD00011462 | EC Number 237-880-2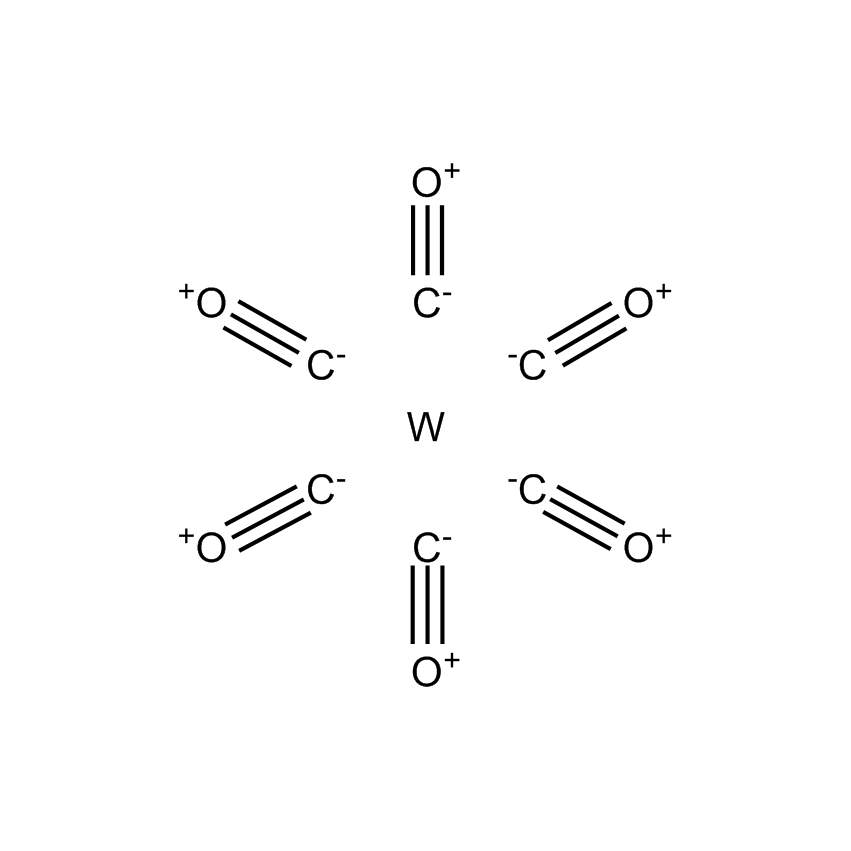 Tungsten hexacarbonyl is easily vaporized and decomposed by the electron beam — providing a convenient source of tungsten atoms. This product is widely used in electron beam-induced deposition processes, it is also used as a precursor to catalysts for alkene metathesis and to desulfurize organosulfur compounds. It is relatively air-stable, and it is sparingly soluble in non-polar organic solvents. W(CO)6 reactions begin with the displacement of some of its CO ligands. Similar to Mo(CO)6 in behavior, W(CO)6 typically forms compounds that are kinetically more robust. The synthesis of this product is reported (see the links below).
Ereztech manufactures and sells this product in small and bulk volumes. Glass ampules, bottles or metal ampules or bubblers are available for packaging. For additional analytical information or details about purchasing Tungsten hexacarbonyl contact us at sales@ereztech.com
Safety information
| | |
| --- | --- |
| UN | Not regulated |
| In TSCA registry | Yes |
First Aid Measures
| | |
| --- | --- |
| General advice | Consult a physician. Show this safety data sheet to the doctor in attendance. Move out of dangerous area. |
| Eye contact | Rinse thoroughly with plenty of water for at least 15 minutes and consult a physician. |
| Skin contact | Wash off with soap and plenty of water. Consult a physician. |
| Inhalation | If breathed in, move person into fresh air. If not breathing, give artificial respiration. Consult a physician. |
| If swallowed | Do NOT induce vomiting. Never give anything by mouth to an unconscious person. Rinse mouth with water. Consult a physician. |
Certificates of analysis (CoA)
COA_W0110_LR20W4622 COA_W0110_LR20W3622 COA_W0110_LR20W1722
If you don't see the needed lot of Tungsten hexacarbonyl CAS 140-40-11-0 below please contact customer support at sales@ereztech.com
External identifiers for Hexacarbonylwolfram
| | |
| --- | --- |
| Pubchem CID | 98884 |
| SMILES | O=C=[W](=C=O)(=C=O)(=C=O)(=C=O)=C=O |
| IUPAC Name | dimethylazanide;tantalum(5+) |
| InchI Identifier | InChI=1S/6CO.W/c6*1-2 |
| InchI Key | FQNHWXHRAUXLFU-UHFFFAOYSA-N |
Known applications and external links
With Tungsten hexacarbonyl other customers often ask:
Ereztech synthesizes and sells additional W-compounds.
To purchase Tungsten hexacarbonyl CAS 14040-11-0 contact us at sales@ereztech.com