Product Packaging
The Ereztech products are carefully prepared to the highest quality to support our customers development and manufacturing applications. These materials are often air and moisture sensitive. Maintaining their purity to the point of use requires appropriate packaging to interface with the customers delivery systems.
We will continue to provide customers with cleaned sealed borosilicate glass ampules that provide a hermetically sealed, transparent package. This gives customers the opportunity to visually inspect the product and redistribute to other delivery vessels if they have the appropriate facilities to safely handle the materials and maintain their integrity. Ampule sizes are customized to the customers' requirements.
Customer may also supply the delivery vessels to be filled with product at the manufacturing site. This gives the customer their preference for a specific vessel design that best supports chemical delivery to their application.
In addition, Ereztech now offers customized 316L stainless-steel delivery vessels that support customer efforts for delivery of small evaluation samples to vessels more appropriately sized for manufacturing. These vessels are prepared and filled by Ereztech and provided to the customer ready to connect to their delivery system. This reduces material handling, and is especially important when evaluating small quantities, e.g., < 200 g of chemicals you are evaluating for your application.This customized vessel offering is well matched to our 25 g program or other small sample orders utilized in customer product development programs. Precision Fabricators Limited (PFL), a global leader manufacturing cylinders, bubblers, and ampules with extraordinary quality, reliability, and safety will work with Ereztech's technical staff to provide a vessel matched to the chemical product properties and the customer's application. Canister configuration options support direct vapor, bubbler and direct liquid delivery options starting as little as 25 to 200 cc vessel volumes and will leverage PFL's 30 years of MOCVD and ALD experience, and over 400 cylinder designs.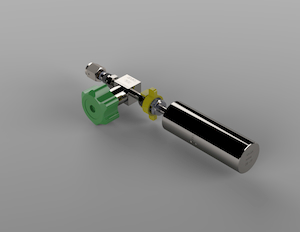 A single port, electropolished 316L SS vessel with 50-150 cc working volume with Swagelock high temperature valve. Suitable for direct vapor draw, with more volatile precursors.  The welded VCR gland supports clean product filling, access for cleaning the vessel or customizing the valve choice.  A VCR connection lock discourages inadvertent opening.  Design pressure 300-500 psi ; design temperature 121-300oC.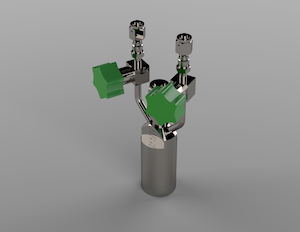 An all welded electropolished 316L SS vessel with 50-200 cc working volume configured with or without a diptube to support either liquid or carrier gas precursor delivery.  Fittings and valve types customizable and large accessible fill port can also be configured as a third entry point.  Design pressure 260 psi ; design temperature 315 oC. DOT-tested and certified.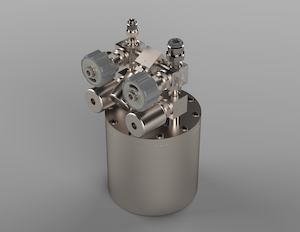 A 1 liter working volume electropolished 316L SS vessel with 1000 cc working volume configurable with a diptube to support either liquid or carrier gas precursor delivery.   Supports remote operation with manual entry and exit shutoff valves and an automatic solenoid driven purge assembly for clean operation, installation and removal.  Design pressure 300-500 psi ; design temperature 120-300 oC.