Product Packaging
Maintaining purity from synthesis to the point-of-use is of utmost importance to guarantee delivery of the highest quality material for development and manufacturing applications. These materials are often air and moisture sensitive, and require appropriate packaging to interface with different delivery systems. 
We proudly partner with Precision Fabricators Limited (PFL), a global leader in manufacturing cylinders, bubblers, and ampules, to provide vessels matched to every chemical product's properties as well as each customer's application. Canister configuration options support direct vapor, bubbler and direct liquid delivery options starting with volumes as little as 25 to 200cc. Ereztech leverages PFL's 30 years of MOCVD and ALD experience, and over 400 cylinder designs, to provide the best packaging for every synthesis.
Vessel Options
Borosilicate glass ampules

Hermetically-sealed and transparent

Product may be repackaged if customer has appropriate facilities to safely handle and maintain the integrity of the materials

Ampule sizes are customized to meet each customer's requirements

316L stainless steel vessels

DOT-certified with electropolished interiors

Standard configuration with VCR connections

Valve options may be customized based upon intended service conditions

Available in a range of sizes, from small evaluation samples to vessels sized for manufacturing

Ready to connect to the customer's delivery system upon receipt

Customers may provide their own vessels for maintenance and refilling services following successful completion of an engineering review for suitability
Ereztech Packaging Program
Ereztech offers full-service production and packaging, from synthesis samples to high-volume manufacturing quantities, simplifying your process and creating efficiencies for your business. Whether we source your material vessels, or you choose to supply your own, we provide:
Fully-customized vessel cleaning procedures based upon the materials and their intended use

Detailed, custom workflow processes specific to each material and vessel

Comprehensive inventory management system including fill history, inspection reports, and detailed maintenance records for each vessel

Reduced material handling costs and lead-times by engaging us as your single-source supplier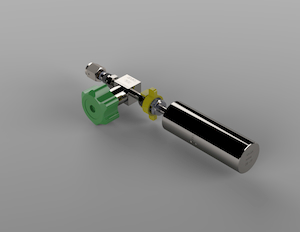 A single port, electropolished 316L SS vessel with 50-150 cc working volume with Swagelock high temperature valve. Suitable for direct vapor draw, with more volatile precursors.  The welded VCR gland supports clean product filling, access for cleaning the vessel or customizing the valve choice.  A VCR connection lock discourages inadvertent opening.  Design pressure 300-500 psi ; design temperature 121-300oC.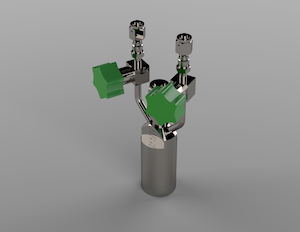 An all welded electropolished 316L SS vessel with 50-200 cc working volume configured with or without a diptube to support either liquid or carrier gas precursor delivery.  Fittings and valve types customizable and large accessible fill port can also be configured as a third entry point.  Design pressure 260 psi ; design temperature 315 oC. DOT-tested and certified.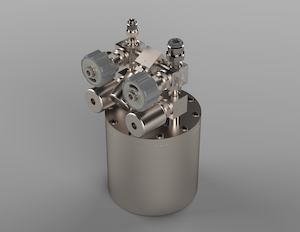 A 1 liter working volume electropolished 316L SS vessel with 1000 cc working volume configurable with a diptube to support either liquid or carrier gas precursor delivery.   Supports remote operation with manual entry and exit shutoff valves and an automatic solenoid driven purge assembly for clean operation, installation and removal.  Design pressure 300-500 psi ; design temperature 120-300 oC.